A Five-Year-Old Must Travel From Tennessee to Find the Expertise to Treat His Rare Brain Condition

03.29.2013
From the time he was 12 months old, young Caleb Johnson suffered from intractable epilepsy due to a hypothalamic hamartoma. His condition resulted in recurring daily seizures, with more than a dozen seizures occurring some days. Hypothalamic hamartoma is an extremely rare growth in the brain. It is so rare that most neurosurgeons will never encounter the condition in their entire careers. The seizures severely impacted Caleb's development and personality.

At the age of 18 months, Caleb began to have episodes during which he would spontaneously laugh or cry. Pediatricians determined that Caleb was actually experiencing gelastic seizures, which are often called laughing seizures because they involve bouts of uncontrolled laughter that are often combined with a facial contraction that looks like a smirk. Over time, these seizures can develop into partial complex tonic seizures or generalized tonic-clonic seizures that involve muscle rigidity followed by muscle contractions throughout the body.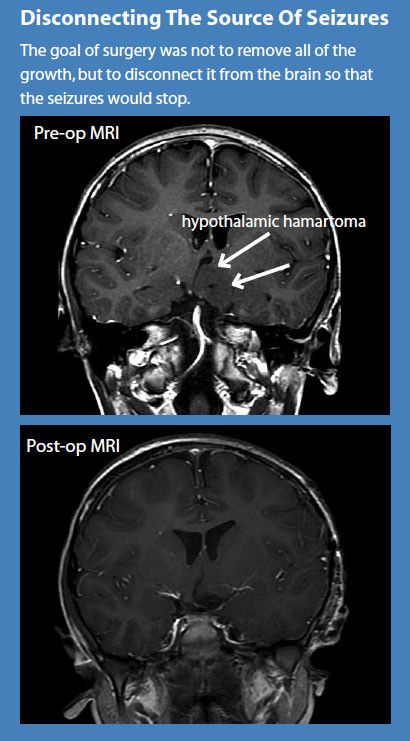 Caleb's pediatrician in Tennessee referred him to a neurologist who ordered an MRI. These scans revealed a growth in Caleb's brain. The next stop was Nashville, where a surgeon performed a biopsy to confirm the hypothalamic hamartoma diagnosis. That surgeon was unable to remove any of the growth and Caleb's condition worsened over the next two years.
Because hypothalamic hamartomas are so rare, finding a neurosurgeon experienced with this condition proved very challenging. The family contacted The Barrow Institute in Arizona. Known for treating patients with hypothalamic hamartomas, the Barrow Institute directed them to pediatric neurosurgeon Scott Wait, MD. At the time, Dr. Wait was completing a pediatric neurosurgery fellowship in Tennessee at Le Bonheur Children's Hospital and St. Jude Children's Research Hospital in Memphis.
Dr. Wait had trained at The Barrow Institute prior to his fellowship. There he gained in-depth experience in the medical and surgical treatment of hypothalamic hamartomas, including stereotactic radiosurgery and multiple surgical approaches. Caleb was quickly scheduled for surgery in Memphis with Dr. Wait. However, an unexpected and temporary medical condition caused Caleb's procedure to be postponed. By the time Caleb was cleared for surgery again, Dr. Wait's fellowship in Memphis had concluded and he had moved to Charlotte to join Carolina Neurosurgery & Spine Associates.
"There aren't many doctors with the skill to treat Caleb's condition so we followed Dr. Wait to Charlotte," said Caleb's mother, Amanda Johnson. "He made sure I was aware of everything he was planning to do and made me feel comfortable with the entire process."
A Two-Step Approach
Dr. Wait determined that treatment would include two surgical procedures. "Our immediate goal was not to remove all of the growth, but to disconnect it from his brain so that the seizures would stop," said Dr. Wait. "This was a two-stage approach. The first step was a skull-base procedure that disconnected part of the growth. A significant amount remained connected in his third ventricle. A few days later, using a small, one-and-a-half-centimeter incision, we were able to disconnect the majority of the hypothalamic hamartoma from the hypothalamus. Caleb has been seizure-free ever since."
Dr. Wait and Caleb at a post-op visit.
Caleb's progress will now be monitored. If his seizures return, an additional procedure may be necessary. To receive the care Caleb needed, there were more than just geographic boundaries to cross.
Caleb"s insurance had initially required that a surgeon in Tennessee provide treatment. When no one in Tennessee had the necessary expertise, he was cleared to receive care in Charlotte. Carolina Neurosurgery & Spine Associates navigated the paperwork requirements to make his treatment possible.
"This has been the best medical experience we've had," said Amanda. "They took care of everything for us. At Carolina Neurosurgery & Spine Associates and Levine Children's Hospital, we were treated so well the entire nine days we were here."
A Complete Change
According to his mother, Caleb has been a completely different child as a result of the surgery. "It's like I came to North Carolina with one child and went back to Tennessee with another," said Amanda. "Since the surgery there haven't been any seizures, and Caleb is a much happier child. His mom is much happier too!"
"He used to be a bit of a terror," said Amanda. "Now practically everything about him has changed, in a good way. I owe Dr. Wait so much. To watch my child suffer through seizures for years and then to see him now is amazing."
For more information about Dr. Wait, call 704-376-1605.