Joseph D. Stern, MD, FACS
Special Interests
Brain Tumors
Complex Spinal Surgery
Deep Brain Stimulation for Parkinson's Disease
Minimally Invasive Spine Surgery
Neurosurgeon
Stereotactic Radiosurgery
Biography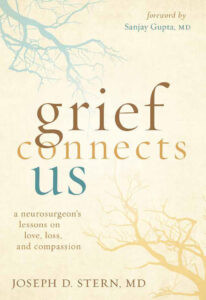 In his exceptionally thought-provoking and moving memoir, Grief Connects Us: A Neurosurgeon's Lessons on Love, Loss, and Compassion, Joseph Stern, MD, grapples with grief and loss as he searches for compassion in a field notorious for neutrality.

As a neurosurgeon, Dr. Stern has long been familiar with death; but when his younger sister, Victoria, was suddenly diagnosed with acute leukemia, he found himself unprepared to accept her diagnosis. Her illness and death broke down the self-protective barriers he had built over the course of his 25-year career and led to a profound shift in his approach to medicine. Grief Connects Us shows that no matter which side of the patient-doctor relationship you find yourself on, empathy, vulnerability, and emotional agility can facilitate deeper, more authentic human connection and prepare us for life's greatest challenges. Dr. Stern goes beyond simple reflection by providing concrete suggestions for how we can improve health care delivery to achieve this shared connection. To learn more or to order Dr. Stern's book, click here.
Dr. Stern has also contributed to the Journal of Palliative Medicine.
Click below to access his contribution:
Why Should a Neurosurgeon Attend a Palliative Care Conference, Anyway?