From Paralysis To Promise

12.12.2018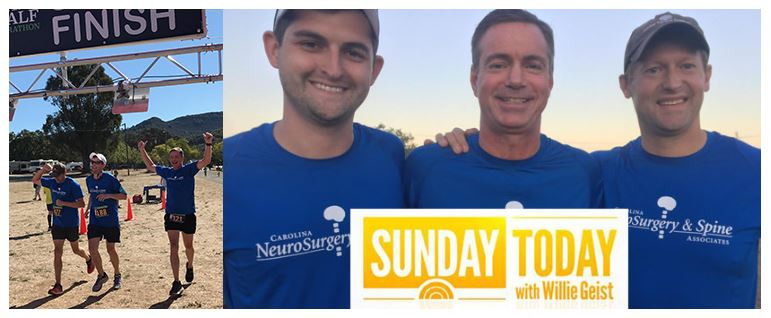 Quick response, neurosurgical expertise and the promise from a doctor to a patient helped Dean Otto recover from paralysis. He's now raising money for others with spinal cord injuries and just ran a half marathon with his neurosurgeon.
Once Dean Otto sets a goal, he's determined to reach it. This was true in business and in his hobby as an avid runner and biker. Dean's commitment to training was evident when he awoke at 6:00 am on September 24, 2016, to begin his bike ride.

"I looked like the typical geeky bike dad with all of the reflectors and safety gear on," said Dean.

Dean was approaching 23 miles per hour on his bike when three cars suddenly flew past him.

"That"s when I heard screeching brakes, and felt an impact," said Dean. He was hit by a 4000-pound Ford F-150 pickup truck, thrown from his mangled bike and knocked unconscious. When he came to, Dean remembered hearing sirens and realizing he could not move his legs.

At the hospital, he was assessed by Jonathan Parish, MD. Dean had no movement below his waist, and imaging revealed fracture dislocation and significant spinal cord compression. Dr. Parish immediately contacted neurosurgeon Matthew McGirt, MD, of Carolina Neurosurgery & Spine Associates to assess the severity of injury.

"There were some firing neurons in Dean"s spinal cord, and a little sensation, but he still couldn't move. The first priority was to get him to the operating room immediately," said Dr. McGirt. "Our goal was to see how quickly we could decompress the spinal cord."

Over the course of two hours, Dr. McGirt performed a T11-L3 laminectomy and fusion, and reduction of the fracture/dislocation to decompress Dean"s spinal cord.

"When I woke up after surgery, I could feel my legs again," said Dean. "Dr. McGirt was standing over me, smiling. He said the surgery went absolutely perfectly and I had a chance at making a full recovery. I told him that I would run again, and I made Dr. McGirt promise he would run a half marathon with me!"

Forty-eight hours after undergoing complex spine surgery, Dean was on his feet, using a walker. He stayed in the hospital for one week, followed by months of intensive physical therapy.

---
This content is for informational and educational purposes only. For specific medical questions, please consult your doctor. New and current patients can call our offices to make an appointment or request an appointment online.
---