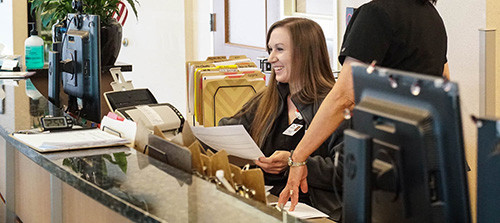 Your First Visit
When you come for your first appointment, don't forget to bring the following important information:
Any medical records from other physicians who have treated you for your current condition.
Any imaging and/or test results for your current condition.
A list of all medications you are currently taking.
All medical insurance cards.
An insurance authorization or a written referral from your primary care doctor, if required by your insurance company.
Completed new patient forms (click here to access the forms). If completing these before your appointment is impossible, please arrive about 15 minutes early to fill out this information.
We participate with most insurance plans; however, you should contact your insurance provider to determine if our services are covered. Patients are required to pay insurance deductibles or copayments at the time of an office visit when services are rendered. We realize payment issues can be confusing. Therefore, our insurance specialist will be glad to file your claim and answer any questions you may have.
Patient Connect
We offer a simple and secure way to communicate with our practice with Patient Connect. This patient portal makes it easy to request prescription refills, inquire about appointments, and pay your bill online. To learn more about Patient Connect, click here.
Prescriptions
Because each patient's care is different, physicians must check patient files before ordering prescriptions or refills. For this reason, requests for prescriptions or refills must be made between 9:00 am and 4:00 pm on weekdays by calling 1-800-344-6716 (Charlotte area) or 336-272-4578 (Greensboro area). When you call our office, please have ready all prescription information and the phone number of your pharmacy.
Emergencies
One of our neurosurgeons is on call 24 hours a day, seven days a week. In the event of an emergency before, during, or after office hours, call 1-800-344-6716 (Charlotte area) or 336-272-4578 (Greensboro area), and we will see that a doctor contacts you as quickly as possible.
Hospitals
Our physicians provide neurosurgical coverage at the following hospital facilities:
Atrium Health's Carolinas Medical Center
Atrium Health Mercy
Atrium Health Pineville
Atrium Health University City
Atrium Health Union West
Atrium Health Cabarrus
CaroMont Regional Medical Center
Piedmont Medical Center Fort Mill
Piedmont Medical Center Rock Hill
Lake Norman Regional Medical Center
Moses Cone Hospital
Atrium Health Wake Forest Baptist
We realize that hospital preferences are important to both you and your insurance provider. If you have any questions about using a specific hospital, please feel free to ask a member of our staff.
For added convenience, we also offer outpatient surgery services at Carolina Center For Specialty Surgery in Charlotte, and Greensboro Specialty Surgery Center in Greensboro. With easy access to parking and a spacious waiting area for family members, these innovative and technically advanced surgery centers remove much of the stress often associated with a traditional hospital setting.