Changing The Lives Of Patients With Adolescent Idiopathic Scoliosis (AIS)
Spinal deformities are a group of diseases related to an abnormal shape of the spinal column. One of the most common spinal deformities we see in patients at Carolina Neurosurgery & Spine Associates is adolescent idiopathic scoliosis (AIS). This condition is most common with pediatric, preteen and teenage patients. For reasons that the medical community does not completely understand yet, patients with AIS develop a C- or S-shaped curve to their spine. If these curves reach a certain severity and are left untreated into adulthood, the condition can worsen and lead to pain and difficulty walking.
"AIS is usually first detected when a child is around 12 years old, or in his or her early teens," says orthopedic spine surgeon Samuel Chewning Jr., MD. "It is vital to have an experienced team of physicians who can look at the curvature of the spine and make an accurate diagnosis."
Dr. Chewning has treated AIS patients throughout the Charlotte region for over 40 years. He is a major part of the multidisciplinary team of spine care specialists at Carolina Neurosurgery & Spine Associates, which includes neurosurgeons, orthopedic spine surgeons, physiatrists, physical therapists, and on-site imaging technicians.
Once a child has been diagnosed with AIS, our doctors will work closely with the patient and the patient's family to develop the best possible treatment plan. The path for AIS treatment depends not only on severity and types of symptoms, but also on the patient's lifestyle, academics, sports and other goals.
"Every patient with AIS is really unique, with different priorities. We try to match the treatment strategy with those unique goals," says Michael Bohl, MD, a spinal deformity surgeon at Carolina NeuroSurgery & Spine Associates. Dr. Bohl completed his residency at Barrow Neurological Institute and his fellowship training was in orthopedic spinal deformity.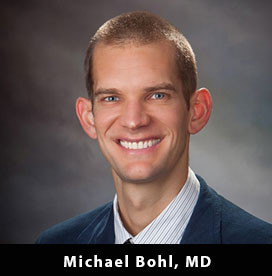 Surgery Is Not Always Needed
Through our decades of experience treating patients with spinal deformities, including adolescent idiopathic scoliosis, we've proven that most patients with AIS do not require surgery. At Carolina NeuroSurgery & Spine Associates, our goal is to get patients through as much of their growth years as possible, while halting or slowing the progress of their spinal curvature.
"If a patient can reach bone maturity with a curve severity that is less than 50 degrees, there is a very good chance we can avoid surgery," says Dr. Bohl.
Treatment Options For Adolescent Idiopathic Scoliosis
There are three essential treatment options for patients with AIS – watchful waiting, bracing and surgery. The best course of treatment depends on the severity of the spinal curve and how rapidly the curve is increasing.
Watchful Waiting –

This conservative path of treatment is typically reserved for spinal curves that are very small, or for small curves in patients who have almost completed their physical growth.

Bracing –

A very important strategy and effective tool in treating AIS, bracing is used to halt the progression of a spinal curve, especially during the critical growth years when adolescents are getting taller.

Surgery –

Surgical treatment is usually reserved for patients with the most severe spine curves, who require intervention to avoid problems in adulthood.
Treatment of pediatric spine disorders and curvature requires careful and consistent long-term care from an experienced spine surgeon. This process often lasts well into adulthood to ensure the best outcomes. Carolina NeuroSurgery & Spine Associates is committed to establishing and maintaining long-lasting relationships with patients so they can avoid surgery and enjoy a highly personalized continuity of care throughout the years.
For more information, watch the video below and call 704-376-1605.
Service Locations Offered