Pediatric Clinic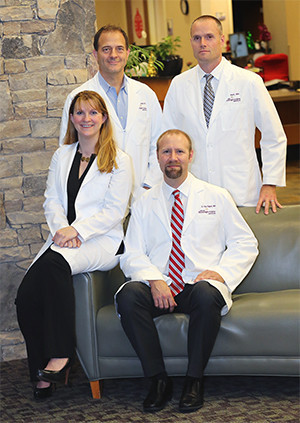 Carolina Neurosurgery & Spine Associates is here to make a difference for children in need of neurosurgical care. Our pediatric neurosurgery team works closely with Levine Children's Hospital to deliver advanced treatment options that can have a positive impact on pediatric patients and their families.

Our pediatric neurosurgeons:
Martin Henegar, MD
Scott Wait, MD
Sarah Jernigan, MD, MPH
Mark Van Poppel, MD

Arachnoid Cysts
Cyst shunt placement
Endoscopic cyst fenestration

Brain Tumors
Brain tumor evaluation and treatment
Minimally invasive approaches
Laser interstitial therapy
Endoscopic approaches
Complex "nonoperative" tumor treatment

Chiari Malformations
Evaluation and treatment

Craniosynostosis
Evaluation and treatment
Minimally invasive approaches to skull reconstruction

Head or Spinal Trauma
Evaluation and surgical intervention
Carolina Sports Concussion Program

Hydrocephalus
Endoscopic treatment of hydrocephalus
Ventricular shunt placement

Spina Bifida
Evaluation and surgical treatment

Epilepsy & Seizure Disorders
Temporal lobectomy
Corpus callosotomy
Hemispherectomy
Treatment of tumors and malformations causing epilepsy
Vagal nerve stimulator for seizure management
Laser interstitial therapy for epileptic lesions
Treatment of hypothalamic hamartomas

Spasticity
Selective dorsal rhizotomy
Intrathecal baclofen pump placement

Spine Disorders
Evaluation and treatment of spinal cord and spinal tumors
Treatment of spinal instability and deformity
Detethering procedure for tethered spinal cord
Complex craniocervical reconstruction

Vascular Malformations Treated
Aneurysms
Arteriovenous malformations
Moyamoya disease
Cavernous malformations

Neurocutaneous Diseases Treated
Neurofibromatosis
Von Hippel-Lindau disease
Tuberous sclerosis
Sturge-Webber syndrome
Abnormal Head Shape Screening Clinic
Evaluations and treatment of infants and children with head shape abnormalities are available through Carolina Neurosurgery & Spine Associates. If you have questions about abnormal head shape or are interested in making an appointment please call 704-376-1605 to make a patient referral.

Overview
For newborns and infants with abnormal head shapes, Carolina Neurosurgery & Spine Associates has begun a screening clinic designed to identify children who can benefit from early intervention. Most often, this intervention is in the form of a nonsurgical treatment known as cranial banding. Twice a month, our practice offers the screening clinic at the Charlotte office to assess infants with abnormal head shapes and determine if they are candidates for cranial bands or other forms of early interventional treatment including repositioning, neck exercises and, in rare cases, surgery.

After determining the appropriateness of cranial banding, our surgeons refer these infants to a local office of Cranial Technologies where the actual treatment program is implemented. Cranial Technologies is the Phoenix-based company which developed cranial banding and which owns and operates offices around the country.

The cranial band, or orthosis, is often described as "braces for the head" as it helps to reshape the child's skull, encouraging growth in the desired directions. Abnormal head shapes that are treatable with banding can be caused by a variety of factors including premature birth, restrictive intrauterine positioning, cervical (neck) abnormalities and even preferential sleeping positions.

Children with abnormal head shapes between the ages of 3 and 18 months can benefit from cranial banding. The treatment typically lasts three to four months, at which point the child is reevaluated and, if needed, banding is continued with a second cranial band.