Brain Tumor Treatment
The physicians of Carolina Neurosurgery & Spine Associates fully understand the physical and medical implications of a brain tumor diagnosis. As human beings, they also realize the emotional toll a brain tumor diagnosis can have on a patient and his or her family. That's why Carolina Neurosurgery & Spine Associates is proud to offer comprehensive brain tumor treatment and care, from advanced surgical procedures to patient support and counseling.
Why Choose CNSA for Brain Tumor Treatment?
Carolina Neurosurgery & Spine Associates provides specialized medical care for patients with primary benign tumors, malignant tumors or brain metastasis from another part of the body. Most importantly, the physicians and staff of Carolina Neurosurgery & Spine Associates are here every step of the way to give brain tumor patients a clear direction, and a clear advantage.
The majority of brain tumor treatments are conducted through the Neurological Institute and the Blumenthal Cancer Center at Carolinas Medical Center. However, care is provided out of four major area hospitals, each providing state-of-the-art technologies.
State-of-the-art BRAIN TUMOR TREATMENT | CNSA
Full electro-diagnostic services complement the brain tumor effort providing intra-operative brain mapping, intra-operative EEG, SSEPs, BAERs, etc. when appropriate. Atrium Health offers a dedicated radiosurgical device, the Brain Lab Novalis, that makes it possible to provide state-of–the-art, minimally invasive treatments for patients with a variety of brain tumors.
Contact Our Brain Tumor Treatment Center
For more information, or to refer a patient, click here or call Carolina Neurosurgery & Spine Associates at 800-344-6716 (Charlotte area) or 336-272-4578 (Greensboro area).

Coordinated Brain Tumor Treatment and Care
Our neurosurgeons work closely with each patient's referring physician and consult with a multidisciplinary team of specialists to evaluate each case and determine the most appropriate course of treatment. Patients receive care based upon input from professionals in the fields of:

Neurosurgery
Neuro-Radiology
Neuro-Oncology
Radiation Therapy
Neuropsychology
Physical & Rehabilitative Medicine
Medical Social Work
Hospital-based clinical brain tumor teams, which include nurse clinicians at area hospitals, coordinate in-house treatment of brain tumor patients and assist with necessary patient follow-up care. In addition to their unique clinical expertise, the members of these teams are acutely sensitive to needs of brain tumor patients and their families.
Innovative Brain Tumor Treatment Technologies
New medical technology is the key to the future of brain tumor care in this region. Frame-based and frameless stereotactic devices, radiosurgery, and functional MRI equipment insure the safest, least invasive, and most thorough tumor resections possible.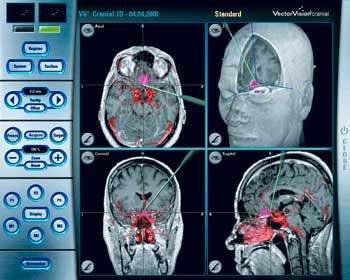 Stereotactic Radiosurgery
This innovative technology allows our stereotactic team to treat localized lesions previously considered inoperable. Primarily, malignant tumors and benign lesions can be successfully treated with stereotactic radiosurgery, which is generally an outpatient procedure. Through the use of CT scans, angiography, MRI, specialized radiation delivery systems, and three-dimensional computer modeling, areas of abnormal tissue can be precisely mapped and treated by finely defined radiation beams. This treatment allows patients to potentially avoid further invasive procedures.
State-Of-The-Art Radiosurgery Device
The Brain Lab Novalis Radiosurgery System is a state-of-the-art radiosurgery device that allows us to grow our radiosurgery program while expanding treatment options for patients with CNS malignancies.
Utilizing the latest technology, surgical instruments are continuously visualized relative to pre-operative diagnostic images, giving surgeons the ability to see beyond the surface of the surgical field using computer renderings and plan the incision with greater accuracy.
Brain Tumor Phase I, II and III Clinical Trials
Our practice is actively engaged in the international effort to advance brain tumor therapies, by participating in Phase I, II and III clinical trials. Additionally, the practice is heavily involved in outcomes research. For more information, or to refer a patient, click here or call Carolina Neurosurgery & Spine Associates at 800-344-6716 (Charlotte area) or 336-272-4578 (Greensboro area).