MAS® PLIF Provides Pain Relief With Faster Recovery

11.01.2014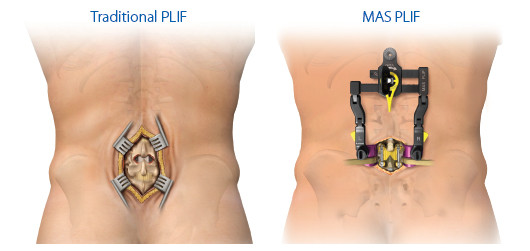 Over the past 20 years, Carolina Neurosurgery & Spine Associates has been a pioneer in the field of minimally invasive spine surgery. Minimally invasive techniques are usually performed using smaller incisions and lead to faster recovery for patients. In the 1990s, the focus began with minimally invasive spinal decompression surgery, such as the cervical MED procedure that was developed by one of our neurosurgeons, Tim Adamson, MD. To date, our practice has performed more than 2,000 cervical MED procedures - more than any other practice in the country.
Today, the use of minimally invasive techniques has expanded to include spinal fusion surgery, which is used to stabilize the spine and reduce or eliminate pain in the lower back and lower extremities. Traditionally, fusion surgery involved an open approach with longer hospital stays and months of recovery. A new minimally invasive option now utilized by our practice is MAS PLIF (Maximum Access Surgery posterior lumbar interbody fusion).

By using a medialized (closer to the spinous process) entry point, the MAS PLIF procedure is designed to eliminate the need to retract muscle laterally (wide) past the facet joint, therefore requiring a smaller incision than an "open" PLIF (posterior lumbar interbody fusion).
A traditional PLIF is performed by making a midline incision in the patient's back and retracting the attached muscles laterally (to the side) beyond the facet joint to allow sufficient access to the spine.
"Patients experience less pain and recover more quickly with the MAS PLIF procedure compared to standard PLIF surgery," said Carolina Neurosurgery & Spine Associates neurosurgeon David Jones, MD.
Wayne Voss, one of Dr. Jones' patients in Greensboro, underwent MAS PLIF surgery one year ago. Intense pain in the 66-year-old's right leg had made it almost impossible for him to walk, much less enjoy his favorite pastime: golf.
"I was up walking without pain the same day as my surgery. Soon after I was playing golf pain-free."
– MAS PLIF patient Wayne Voss "I couldn't make it more than 15 feet before the pain would shoot down my right leg from my hip to my foot," said Wayne. When he was sitting or lying down, the pain would ease, but Wayne couldn't stand or walk without pain.
After physical therapy and therapeutic injections proved ineffective, Wayne's primary care doctor referred him to Dr. Jones. An MRI showed that he was suffering from spondylolisthesis with stenosis at his L4 and L5 vertebrae. The morning of August 23, 2013, Wayne underwent MAS PLIF surgery. Later that same day, he was able to walk without pain. The very next day, he was able to work with the hospital's physical therapist and occupational therapist.
"The therapists had me walk down the hall and up the stairs. I was able to walk straightand without pain. They couldn't believe it," said Wayne. "They both told me I didn't need any help from them!" He went home after only two nights in the hospital.
Dr. Jones told Wayne to stay off the golf course for 10 weeks after surgery to ensure the best recovery. "It was really hard but I listened," said Wayne. "When I got back on the golf course, I was walking and playing without pain. It was amazing."
A year after his surgery, Wayne is still pain-free and thankful to Dr. Jones and the team at the Greensboro office. "I couldn't have asked for a better experience," said Wayne.
To learn more about MAS PLIF or the comprehensive spine services at our practice, call 800-344-6716.

---