Meet Nick: An active dad back to chasing his kids around after years of excruciating back pain.

10.30.2023
Nick, a dad to three kids and husband to his wife, Traci, experienced back pain for years before it became intolerable. The pain ran down his leg, forcing him to walk with a limp and even making sitting in a chair very uncomfortable.

In October 2022, one clinician suggested that he try a few lifestyle changes before taking the more drastic measure of surgery. Nick tried going to the chiropractor, sleeping on a new mattress, wearing better shoes, using a back brace, and getting an injection to provide relief — with no success.
In December, Nick had his first appointment with neurosurgeon Mark D. Smith, MD, at Carolina NeuroSurgery & Spine Associates. After undergoing imaging diagnostics, Nick was diagnosed with a herniated disc. After carefully reviewing his MRI and having a detailed discussion with Dr. Smith, he was advised that surgery for his herniated lumbar disc would be the ultimate fix to getting his life back.
"Dr. Smith knew Nick was young and active with 3 small kids at home begging for Dad to play again," Traci said. "Back surgery is scary, though. Dr. Smith took the time to assure us this was the right step for us without being pushy, making us feel so sure that we chose the right medical practice and physician."
Within a few days of Dr. Smith advising Nick to have surgery, Nick was couch-bound.
"The pain made him unable to walk or even stand for more than a minute," Traci said. "I called CNSA begging for the surgery to be scheduled as soon as possible."
While Nick and his family waited for their insurance to approve the surgery, Traci said that the team at CNSA was extremely helpful and caring, always calling her back quickly to answer her questions and even helping calm her nerves about the surgery or Nick's pain. Dr. Smith also continued to check in, calling Traci personally to see how Nick was doing.
"Dr. Smith seemed to understand I was just a wife, begging for my husband to find relief. He called me personally to ask about Nick, and I was full of tears," Traci said. "A neurosurgeon taking the time to call me personally to check on my husband? That was confirmation we were exactly where we needed to be. It was clear Dr. Smith and his team really cared."
"During that phone call, Dr. Smith told me that he would see us the next day for surgery. This was a literal answer to prayer."
Seeing a "Miracle"
With the help of their family, Traci got Nick into the car and to the surgery center. "We even took a photo of Nick laying on a pillow, on the way to the hospital. He literally couldn't sit in the car, from his back pain, pre-surgery," remembered Traci.
If the pain wasn't already enough for Nick and family to worry about, they were also dealing with the fact that the insurance company refused to authorize the surgery. While CN
SA did ultimately get reimbursed after submitting an appeal, Dr. Smith moved ahead with the surgery knowing that the team would likely not be paid for it.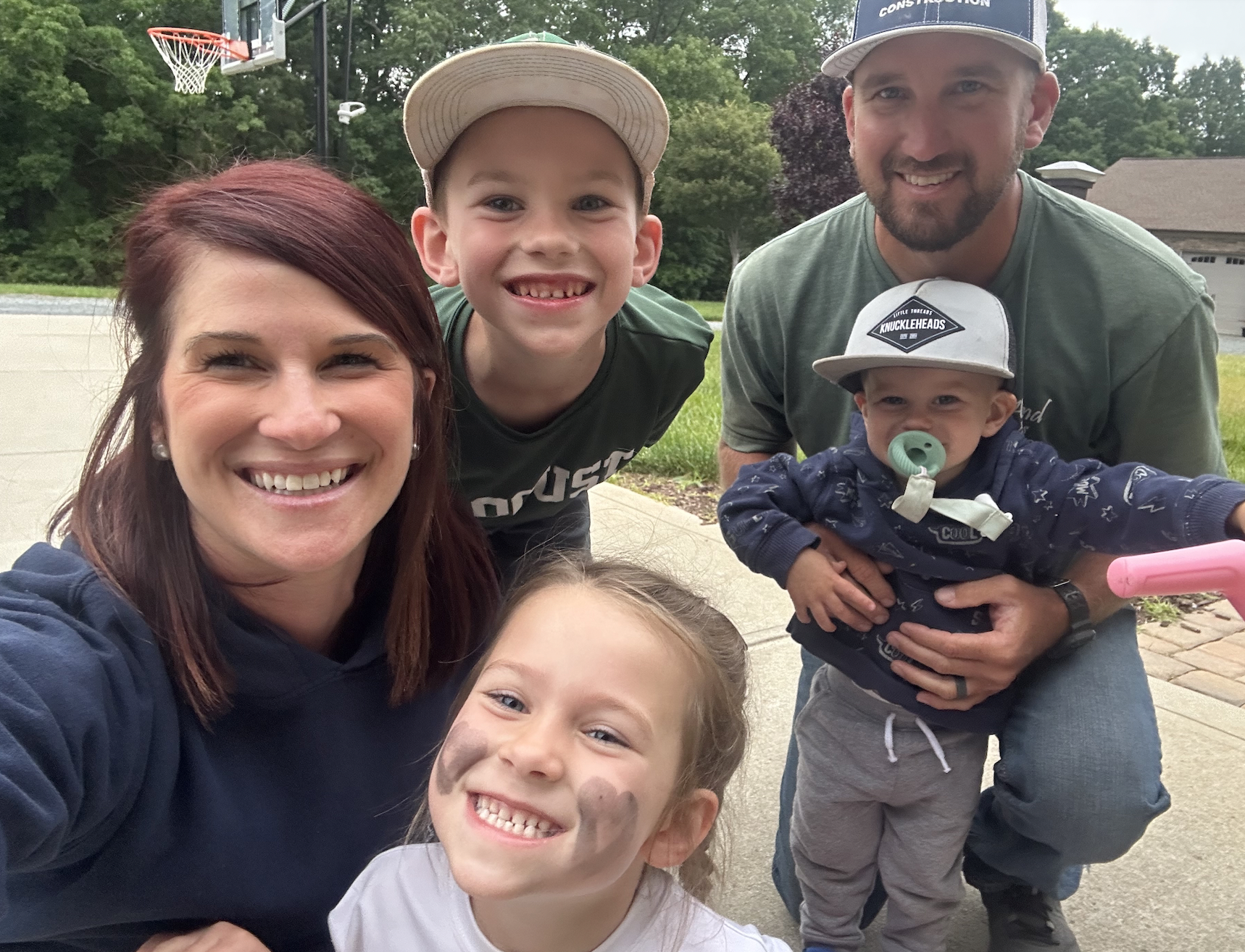 Dr.Smith's team, including nurses Kelley and Jennie, got Nick into the surgery as quickly as possible, and Dr. Smith told the family that Nick would be able to walk out of the facility. Within an hour, the surgery was finished, and Traci was able to see Nick again — this time sitting up and pain-free.
"It was like seeing a miracle," Traci said. "Dr. Smith, the nurses, and his team gave life back to my husband. Our kids were so happy to see that daddy's doctor had fixed him."

About the Procedure: A Lumbar Microdiscectomy
A lumbar microdiscectomy, also known as microdiscectomy or microdecompression, is a surgical procedure performed to alleviate symptoms caused by a herniated or bulging disc in the lower back (lumbar spine). In your case, it's specified as being performed on the right side at the L5-S1 lumbar level, which indicates the location of the affected disc.
Lumbar microdiscectomy is considered a minimally invasive procedure, and the use of a microscope enhances precision, reduces tissue damage, and speeds up recovery compared to traditional open surgeries. It's important to note that the success of the procedure depends on various factors, including the extent of the herniation, the patient's overall health, and adherence to post-operative instructions. Patients should follow their surgeon's guidance for post-operative care and rehabilitation to optimize the outcome.
Feeling his Best Nearly a Year Later
Almost one year post-surgery, Nick says that he has never felt better. He's back to work full-time, back in the garage working on his hobbies, and most importantly, Traci said, back to chasing their kids around.
"I have nothing but great things to say about this office," Traci said. "They showed us so much compassion when we both were at rock bottom. I can't put into words how grateful we will forever be for CNSA."
To others experiencing back pain, Traci's best advice is to not hesitate to get surgery if that's what the doctor recommends.

About our Comprehensive Brain and Spine Services
Carolina NeuroSurgery & Spine Associates, established in 1940, is one of the nation's largest and most highly respected neurosurgical private practices. Our group provides brain and spine care services, including adult and pediatric neurosurgery, spine surgery, physiatry, neurology, pain management, and physical therapy.
We offer advanced surgical and non-surgical treatment for the entire spectrum of brain, spine, and peripheral nerve disorders, including brain tumors, spine deformities and injuries, stroke, epilepsy, congenital anomalies, concussions, neck and lower back pain, and pituitary tumors.
Carolina NeuroSurgery & Spine Associates' commitment to advancing the science and delivery of brain and spine care has remained the driving force for its success.
The group comprises 48 physicians, 44 advanced practice providers, and over 550 employees. With nine office locations, the group primarily brings the latest, technologically advanced neurosurgical therapies to adults and children across the Carolinas.
This content is for informational and educational purposes only. For specific medical questions, please consult your doctor. New and current patients can call our offices to make an appointment or request an appointment online.
---