Multi-position MRI And Minimally Invasive Fusion End Years Of Intense Back Pain

09.19.2018

Forty-seven-year-old Tracy Bari has been physically active her entire life, from competing in gymnastics as a child and on her ski team in college to running marathons and triathlons. As a real estate agent in Destin, Florida, she is constantly on the move. But recently, severe back pain was putting the brakes on her high-energy life and successful career.

"I was at the end of my rope," said Tracy. "I show over 20 properties a day, so I would strap an ice pack to my back just to get through the showings. I was starting to believe I'd have to spend the rest of my life in bed due to this constant pain."

Since 2009, Tracy suffered from back pain. She initially had spinal injections that helped for a while. Over time, injections were no longer effective. Despite seeing numerous doctors, Tracy was unable to find pain relief.
"I saw multiple neurosurgeons and orthopedists, and none of them could find the source of my back pain. They told me surgery would not help and prescribed more injections. How many injections can a person take?" said Tracy.
Feeling desperate and frustrated, Tracy finally told her family in North Carolina that the intense daily back pain was becoming unbearable. Her sister insisted that Tracy come to Carolina Neurosurgery & Spine Associates.
"That's when I first met Dr. Deshmukh," said Tracy. "But now I call him Dr. Lifesaver."
Neurosurgeon Vinay Deshmukh, MD, FACS, reviewed Tracy's previous scans and determined that additional diagnostic testing was needed, including imaging with the practice's on-site multi-position, open MRI. (Learn more here.) This innovative MRI, which was able to scan Tracy's spine as she was standing and leaning forward and backward, was able to reveal the source of her pain. Imaging showed instability at her L3-4 vertebrae (spondylolisthesis) secondary to a presumed crack in the vertebrae (pars defect).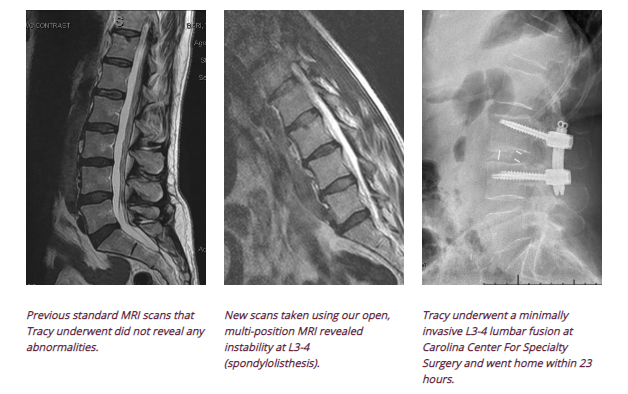 Previous standard MRI scans that Tracy underwent did not reveal any abnormalities. New scans taken using our open, multi-position MRI revealed instability at L3-4 (spondylolisthesis). Tracy underwent a minimally invasive L3-4 lumbar fusion at Carolina Center For Specialty Surgery and went home within 23 hours.
"I could not believe a doctor finally made the extra effort to find out what was wrong," said Tracy. "The fact that he actually listened and that the practice had a multi-position MRI made all the difference."
Dr. Deshmukh performed a minimally invasive lumbar fusion (TLIF) on Tracy at Carolina Center For Specialty Surgery. Tracy went home less than 23 hours after surgery. She was walking the next day, and her recovery has been outstanding.
"Patient outcomes like Tracy's show how listening to the patient, an on-site multi-position MRI and a surgical center experienced in spine care can work in a cohesive manner to deliver the best patient outcome," said Dr. Deshmukh.
"I get very emotional when I think about how far I have come," said Tracy. "The doctors and staff at the practice and the surgery center all worked together as one to take care of me. They truly saved my life."
To learn more about our spine services, visit cnsa.com or call 800-344-6716.
---
This content is for informational and educational purposes only. For specific medical questions, please consult your doctor. New and current patients can call our offices to make an appointment or request an appointment online.
---