Patient Is Four Inches Taller After Two-Part Spine Surgery

03.21.2014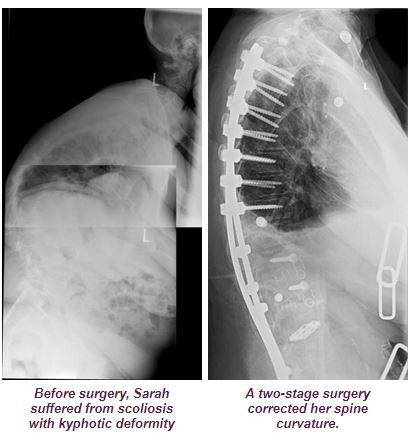 Sarah Arnder didn't realize she had scoliosis when she first went to see neurosurgeon Kevin Cahill, MD, and orthopaedic spine surgeon Samuel Chewning, MD, at the Concord office of Carolina Neurosurgery & Spine Associates. The 62-year-old retired nurse was using a cane because she had difficulty standing. Over the last three years her spine had begun to turn and push her forward so that her stance was always unstable. Sarah also suffered from disabling back and leg pain.
"I went to see Dr. Cahill to complete disability paperwork. I thought nothing could be done for me, but then he explained that there were treatment options that could improve my condition," said Sarah.
Sarah had scoliosis with kyphotic deformity, meaning she had an abnormal curvature of the spine with a forward shift in her spinal balance. Drs. Cahill and Chewning determined the best approach for Sarah was a two-part surgery to correct her spinal curvature.
"Surgical options for scoliosis continue to advance," said Dr. Cahill. "At Carolina Neurosurgery & Spine Associates, we are incorporating minimally invasive techniques to make adult spinal deformity surgery safer with less blood loss and fewer complications."
The first surgical procedure was a minimally invasive lateral approach with anterior osteotomies and interbody fusion. This procedure used small incisions from the side to access the front of Sarah's spine. A wedge portion of bone was removed from the front of the spine to correct the curvature. Two days later, Sarah underwent a posterior fusion with reconstructive osteotomies to further straighten and stabilize her spine. After surgery, she was four inches taller with a new outlook on life.
"Before I saw Dr. Cahill and Dr. Chewning, I was in constant fear of falling and thought I would have to live that way the rest of my life," said Sarah. "Now everything is so much better!"
To learn more about our practice call 704-376-1605.
---