Wheelchair-Bound Patient Is Now Standing Tall Again After Two Spinal Fusion Surgeries

02.13.2015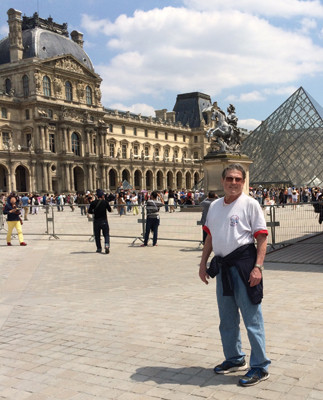 From playing baseball at the University of Tennessee to flying fighter jets on four continents and having a 27-year career as an airline captain, Steve Wieland has led an incredible life. But by the age of 65, he found himself completely helpless. He was unable to walk and was losing function in his hands to the point that he could not feed himself. When he came to see neurosurgeon Matthew McGirt, MD, in November of 2014, Steve had developed almost complete paralysis in all four extremities. It would take timing, technology, surgical expertise and rehabilitation to give Steve a new life.
Steve's problems started when he was 15 and injured his back lifting weights. This agonizing injury was misdiagnosed as "loose ligaments" and he was told to avoid athletics for one year. His lower back pain eventually subsided and he went on with his life, earning a baseball scholarship, serving as a fighter pilot and becoming an airline pilot. Throughout his life, Steve remained very active and enjoyed snow skiing, weight training, tennis, sailing and aerobatic flying. Over the years he experienced nagging back pain, but nothing that was significant. Everything changed in 2007, when debilitating back pain led him to lose his job as an airline pilot.

"Most people think that flying an airplane just involves a lot of sitting," said Steve. "But as the captain, my job was to assist passengers in exiting the plane if there was an emergency. With my severe back issues, I couldn't have saved myself, much less someone else."
Steve was also diagnosed with peripheral neuropathy, an extremely painful condition usually associated with diabetes. He said it felt like hot nails were pressing into his feet all the time. With this condition, the nerves die out until there is no feeling left. The pain was so severe he even considered having his feet amputated. The peripheral neuropathy was causing Steve to fall multiple times a day, which in turn caused further back injury. He eventually lost all feeling in his legs from the knees down. He could no longer participate in any of the athletic activities he loved.
"By the time I saw Dr. McGirt in November of 2014, I had to use a wheelchair and could no longer use my hands. I was in total despair," said Steve.
Patient Steve Wieland stands in front of the Louvre in Paris, one year after facing almost complete paralysis in his arms and legs. After examining Steve and reviewing his MRI, Dr. McGirt scheduled an emergency laminectomy for the same afternoon to enlarge the spinal canal and relieve pressure on the nerves.
"Mr. Wieland was suffering from severe cervical and lumbar spinal stenosis," said Dr. McGirt. "If immediate action was not taken, his paralysis would have become permanent."
After surgery on his C3-6 vertebrae and 17 days of rehabilitation, Steve regained the use of his hands as well as some feeling in his legs and feet, making it possible for him to walk with assistance. Plans were then made for an additional laminectomy on his lumbar spine.
Three months later, and prior to his second surgery, Steve fell, leaving him unable to get out of bed. His second surgery was moved up and he underwent a laminectomy and fusion on his L2-4 vertebrae on February 23, 2015.
"After the second surgery, I walked out with just a cane and the pain was gone!" said Steve.
Steve can now walk completely unassisted and has no pain in his back, feet or hands. He recently spent eight weeks on vacation in Europe.
"I've faced many difficulties in life, but there's nothing worse than losing the ability to walk," said Steve. "Dr. McGirt is a fantastic man who took charge where a dozen other physicians over the course of my life did not. I will be forever grateful."
"Mr. Wieland's story demonstrates that spine surgery and spine fusion can result in very pronounced improvements in pain, disability and quality of life," said Dr. McGirt.
To learn more about the comprehensive spine services at our practice, call 800-344-6716.
---