Taking team building to new heights!

10.17.2023
We're not kidding when we say that at Carolina NeuroSurgery & Spine Associates (CNSA), our providers and staff members aren't just colleagues — they're friends. In addition to consulting one another on difficult cases and assisting one another with follow up appointments, our providers often spend time with each other outside of normal working hours.

The latest (and maybe greatest) example? Three of our providers took team building to "new heights" when they went skydiving together in June 2023. Here's how it happened.
At a dinner to introduce some providers to a new physician, it came up that physiatrist Stephanie Plummer, DO is a certified pilot and licensed skydiver, skills that she picked up during her medical school residency.
"I enjoyed the experience of flying immensely as well as the challenge of learning an entirely new skill set – so much that I continued beyond private pilot training to earn my instrument rating as well as my commercial license and eventually my multi-engine rating," Dr. Plummer said.
The airport where she got her private pilot certificate also had a skydiving school, so Dr. Plummer had the opportunity to do a couple of tandem skydives. She ended up becoming a licensed skydiver, earning her United States Parachute Association "A" license in 2014, which allows her to go on solo skydives.
"Being around the drop zone at the airport regularly, and having all of my flying ratings already in place, led to me becoming one of their part time pilots on the weekends," Dr. Plummer said. "It's a lot of responsibility, but also a lot of fun and another community of great people that I'm always happy to share with my friends and family if they're interested in seeing what skydiving's all about!"
At the dinner, physiatrists John Welshofer, MD, and Sameer Vemuri, MD mentioned that they had never been skydiving. The next thing they knew, after some friendly challenges, Drs. Welshofer and Vemuri decided it was now or never–they were in!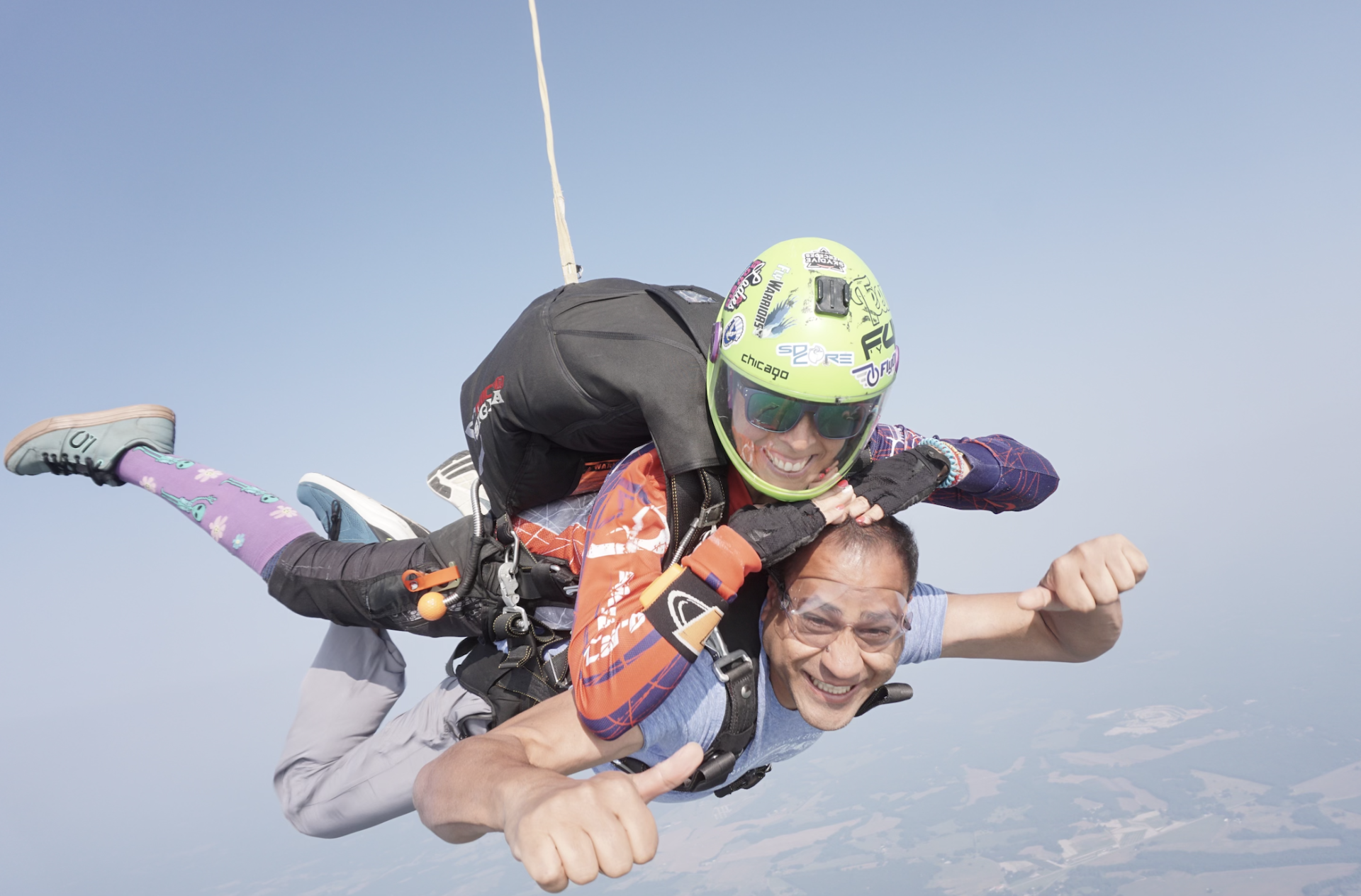 "Skydiving itself was awesome, definitely something that would be outside the comfort zone for anyone doing it for the first time," Dr. Welshofer said. "Having my wife, Michelle, and two very special friends and partners to do that with me made it even better. It was definitely a carpe diem type of thing!"
While the skydiving was an exciting adventure, the physicians agreed that the best part is how it shows the strong relationships, in and outside of work, between the providers at CNSA.
"The unique relationship is not just between the physiatrists, but also between nurses and physiatry and extends to the entire staff," Dr. Welshofer said. "We continue to try and be a clinic where there is love and respect and caring for each other, top to bottom. We try to also bring this to our interactions with patients. Skydiving was just one of many — like the Headed for Hope 5K! — that separates us from other work environments."
Dr. Plummer agreed that the relationships between the entire staff at CNSA are a highlight of working there, which she hopes extends to the patients, too.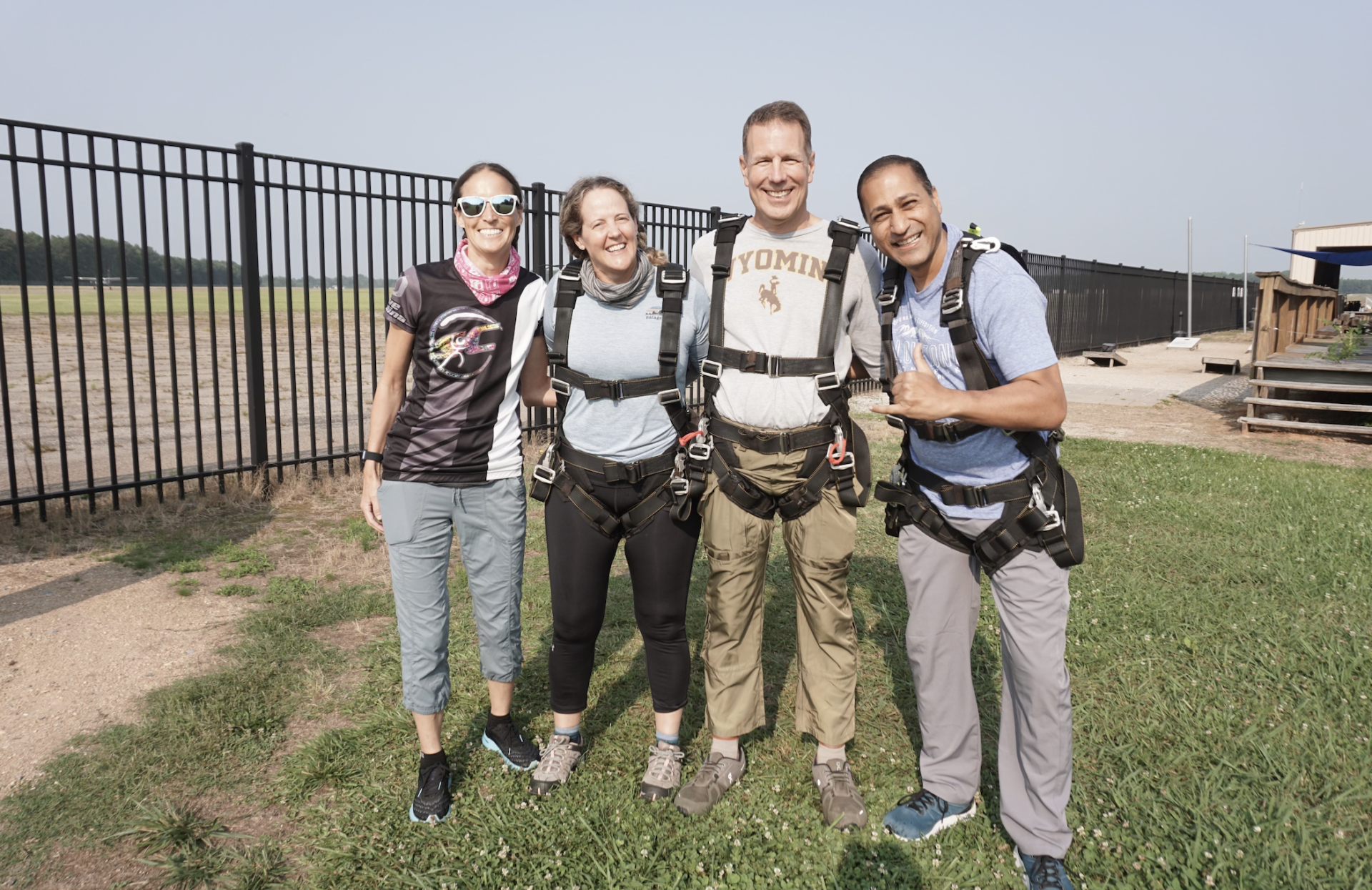 "The culture and camaraderie of everyone here at CNSA is unlike anywhere else I've experienced in my professional career," Dr. Plummer said. "I feel beyond fortunate to work with so many great people and to count many of them as personal friends outside of work as well. There's no doubt our patients can sense this and I hope it helps them to feel a part of our extended family while they are under our care."
Learn more about the physiatry services at CNSA. Our board-certified physiatrists, including Dr. Plummer, Dr. Welshofer, and Dr. Vemuri, allow us to offer a comprehensive level of nonsurgical care.
____________________________________________________________________
About our Comprehensive Services
Carolina NeuroSurgery & Spine Associates, established in 1940, is one of the nation's largest and most highly respected neurosurgical private practices. Our group provides brain and spine care services, including adult and pediatric neurosurgery, spine surgery, physiatry, neurology, pain management, and physical therapy.
We offer advanced surgical and non-surgical treatment for the entire spectrum of brain, spine, and peripheral nerve disorders, including brain tumors, spine deformities and injuries, stroke, epilepsy, congenital anomalies, concussions, neck and lower back pain, and pituitary tumors.
Carolina NeuroSurgery & Spine Associates' commitment to advancing the science and delivery of brain and spine care has remained the driving force for its success.
The group comprises 49 physicians, 41 advanced practice providers, and over 550 employees. With nine office locations, the group primarily brings the latest, technologically advanced neurosurgical therapies to adults and children across the Carolinas.
Our experts are here to help. Call our office or click below to request an appointment online to take the next step.
__________________________________________________________________________
This content is for informational and educational purposes only. For specific medical questions, please consult your doctor. New and current patients can call our offices to make an appointment or request an appointment online.
---