E. Hunter Dyer, MD
Special Interests
Degenerative Spine Disease
Endoscopic Spine Surgery
Minimally Invasive Spine Surgery
Skull Base Surgery
Spinal Fusion
Transsphenoidal Surgery
Aneurysm Surgery
Biography
Dr. Dyer has been the physician leader of CNSA for 20 years. He has been integral to the growth of the practice into one of the largest and most respected neurosurgical practices in the country, with specialists representing physiatry, orthopedic surgery, anesthesia, pain management, and neurology. He will transition this year from his CNSA board role but will continue to practice neurosurgery full time.
Dr. Dyer completed his neurosurgical training in Dallas, Texas prior to starting practice at CNSA. During his training, he completed an internal fellowship in Pituitary and Skull Base Surgery at L'Hopital Foch in a suburb of Paris, France. Dr. Dyer credits his mentors in Dallas and Paris for teaching him his surgical skills and, most importantly, his template for compassionate and comprehensive care for neurosurgical patients.
Dr. Dyer is most thankful for his many patients that have chosen CNSA for their care. He strongly believes that CNSA provides better care with a team approach, utilizing subspecialists within our practice to best manage operative and nonoperative diseases of the nervous system. He is most proud of CNSA's regional and national reputation, individualized subspecialty care, and that CNSA is the perennial first choice for regional care for doctors, nurses, and other health care providers with complex brain and spine issues.
Dr. Dyer grew up in Greenville, Mississippi. He is married with 2 children and a loud beagle. He enjoys traveling with his family and is a huge sports fan. He has played competitive tennis since age 10 and participated two years in the Charlotte Pro League. Both his father and father-in-law were drafted by the NFL. Dr. Dyer carries his competitive spirit with him to work each day and tries to provide benefit and care to all his patients. He welcomes new referrals.
Education
Fellowship: Pituitary & Skull Base Surgery, L'Hopital Foch, Suresnes, Paris, France
Residency & Internship: University of Texas Southwestern Medical Center at Dallas
Medical School: University of Mississippi School of Medicine
Affiliations & Memberships
President, Carolina Neurosurgery & Spine Associates, 2002-2022
American Board of Neurological Surgeons
Congress of Neurological Surgeons
Board Member, Collaborative Physician Alliance, Atrium Health
Board Member, Curi
Board Member, John Crosland Foundation
Member, Christ Episcopal Church
Media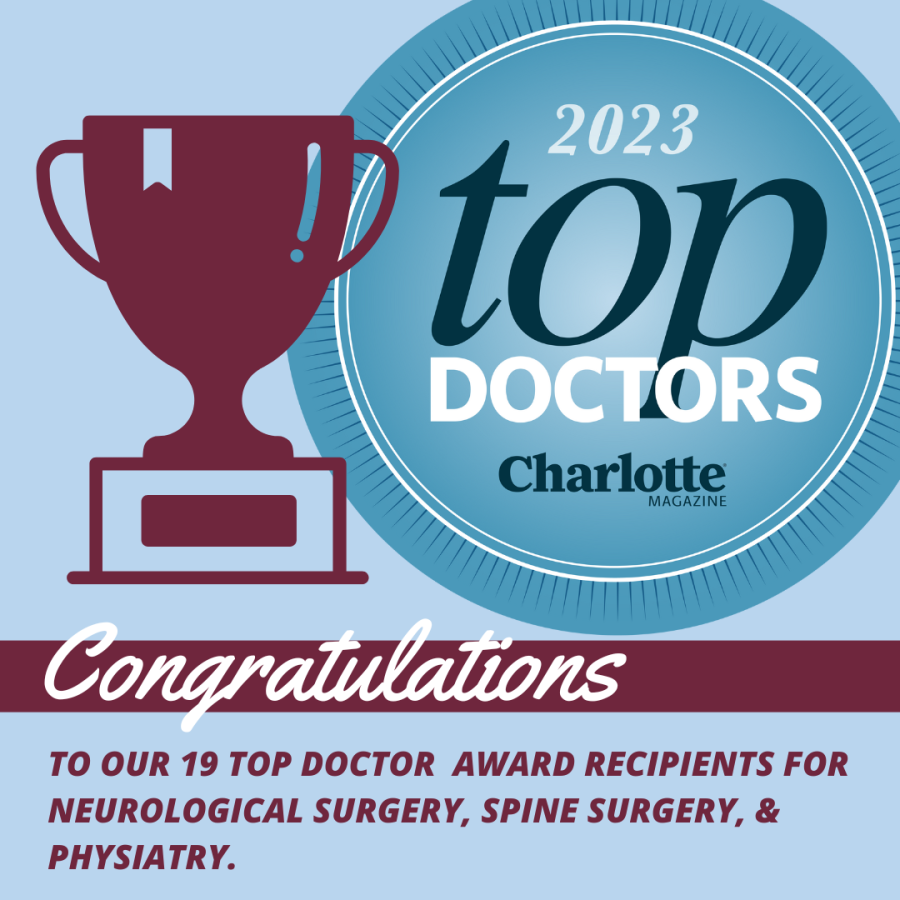 Congrats to our 2023 top doctors!
We are thrilled to announce 19 exceptional doctors who have been recognized as Charlotte Magazine "Top Doctors." Join us in celebrating the expertise and dedication of these exceptional physicians. They have consistently demonstrated their commitment to providing the highest standard of care and have impacted the lives of countless patients.
Read More
Podcast
Episode 33 - In's and Out's of Spinal Fusions with Dr. Hunter Dyer