Carolina NeuroSurgery & Spine Associates' Team Provide Life-Changing Care to Patients in Honduras

03.25.2022
A team of Carolina Neurosurgery & Spine Associates' Neurosurgeons and staff traveled to Honduras in November 2021 to volunteer their time, expertise, and resources on a medical mission trip with NuVasive Spine Foundation (NSF).

Dr. Joseph Stern, Dr. Jeffery Jenkins, and Dr. Henry Elsner participated in the seven day Honduras Spine Mission in partnership with One World Surgery (OWS) and the Holy Family Surgery Center. The doctors, along with 22 additional volunteers and local Honduran medical staff, performed 22 spine surgeries, administered 31 spine injections, and saw 123 clinic patients and 37 physical therapy patients.
"The resilience of the human spirit and the ability for people to recover never ceases to amaze me." -Dr. Joseph Stern
Dr. Stern, who is the Physician Leadership Council representative for spine at OWS, returned to Honduras in November for the 7th time on a medical mission trip after seeing the impact the trips had on the patients he met and worked with. Dr. Stern is passionate about reaching patients who otherwise would not have access to adequate care, working together with his colleagues, and having the opportunity to teach and learn from the local medical staff.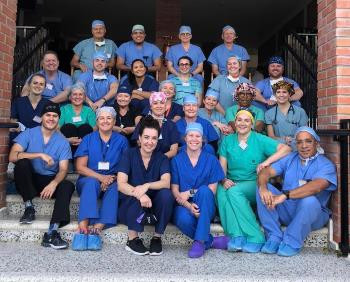 The spirit and energy of the patients he meets in Honduras have a profound impact on Dr. Stern. While he is providing life-changing care, their high-spirited morale and remarkable gratitude stays with Dr. Stern as he returns home.
"The resilience of the human spirit and the ability for people to recover never ceases to amaze me. It's a very helpful perspective on what we do. Sometimes you lose track of the reality that what we are doing is an amazing privilege and a gift, and it is easy to lose sight of that during our day to day lives. When I take the time to go on these medical mission trips, I leave feeling reenergized," Dr. Stern said.
Dr. Stern makes an intentional effort to value and demonstrate empathy as he delivers care. He focuses on being emotionally present with his patients. By participating in medical mission trips, in addition to engaging in further education, Dr. Stern sees examples that help him to continue to strive to improve the way that care is provided.
"You can point out where compassion and care is failing, and everybody knows that because it's everywhere. But wouldn't it be nice to look at and put your energy into a place where it's succeeding? I feel that that's what I find in Honduras. Even though we provide patient care against great adversity and against great odds. If it works there, why can't we do it here?"
"I underestimated how an experience of giving back, such as this trip would give our team the gift of elevated unity." -Dr. Jeffery Jenkins
After hearing Dr. Stern and other doctors speak of the medical mission trip so highly, Dr. Jenkins made the decision to volunteer and go on his first trip with the team in November. He returned from the trip noting the enhanced teamwork that he experienced with his colleagues.
"This opportunity brought me closer to the people I work with every day. I underestimated how an experience of giving back, such as this trip would give our team the gift of elevated unity. Therefore, enhancing the type of collaboration and multidisciplinary care we provide our patients at home every day." Dr. Jenkins said when reflecting on his experience.
Dr. Jenkins also had the opportunity to take his daughter, who is interested in pursuing medicine in the future, with him on the trip. He plans to go back to Honduras on future medical mission trips.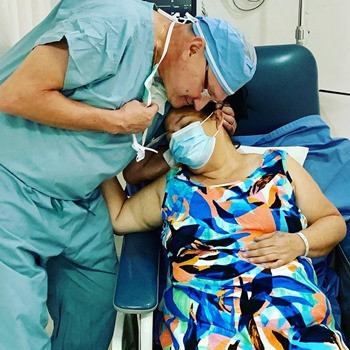 "We have our lives and blessings here in the United States, and we are lucky. I think that it's nice to be able to give back. You're donating some time and money, which is a small sacrifice to make compared to the gift these patients give us in their resilience and gratitude. Coming home from this trip, my daughter and I felt complete, knowing we were able to make a difference for the future of these patients."
Another surgeon who said yes to the call is Dr. Henry Elsner, Neurosurgeon and colleague of Drs. Stern and Jenkins. He too experienced the unique sense of unity felt by all and was left feeling grateful for the opportunity to give time and expertise to provide life changing care. He plans to return on future trips as he values this opportunity that is not only allowed, but encouraged by Carolina NeuroSurgery & Spine Associates organization.
These three physicians, together with their team, truly carried out the organizational mission by providing compassionate, quality care–together.
Do you want to support our efforts or learn more?
The next scheduled medical mission trip to Honduras is set for May 7-14! Dr. Stern, along with neurosurgeon, Dr. Troy Dawley, newer to the practice in the Greensboro office, will be leading the team to accomplish more good work.
Learn more about how to get involved by visiting One World Surgery website!
Learn more about the life changing services provided by Carolina Neurosurgery & Spine Associates.
(704) 376-1605
(336) 272-4578 Greensboro Office
Request an Appointment
---
ABOUT Carolina Neurosurgery & Spine Associates:
Carolina NeuroSurgery & Spine Associates, is one of the most established and largest private neurosurgical practices in the country. Our group includes 48 board-certified or board-eligible physicians in the specialty areas of neurosurgery, physical medicine & rehabilitation (physiatry), spine surgery, and pain management. We provide advanced surgical and nonsurgical treatment for the entire spectrum of brain, spine, and peripheral nerve disorders, including brain tumors, spine injuries, stroke, epilepsy, birth defects, concussions, neck and lower back pain, and pituitary tumors.
ABOUT Nuvasive Spine Foundation (NSF): The NSF is a nonprofit organization, dedicated to operating medical mission trips that bring life-changing spine surgery, technology and training to medically under-resourced communities around the world.
ABOUT Honduras Mission & Partnership with OWS: NSF began its partnership with One World Surgery (OWS) in 2018 and was the first medical mission team to bring spine surgery to this region – 20 miles northeast of Tegucigalpa, the capital of Honduras. The primary focus of this location is adult degenerative spine surgery. NSF travels to Honduras three times a year and performs 20-30 surgeries and assesses 150-200 patients each trip.
---
This content is for informational and educational purposes only. For specific medical questions, please consult your doctor. New and current patients can call our offices to make an appointment or request an appointment online.
---