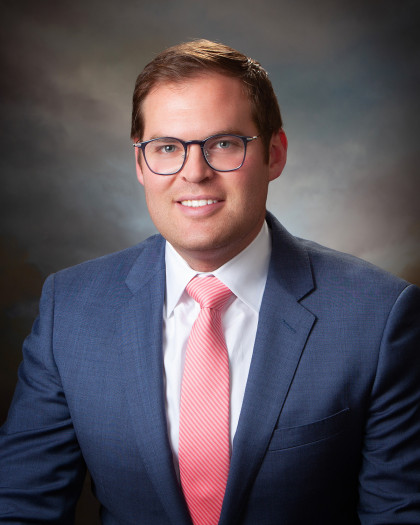 Jonathan Parish, MD
Special Interests
Minimally Invasive Spine Surgery
Treatment of Stroke
Brain Aneurysms
Arteriovenous Malformations
Skull Base Brain Tumors
Transsphenoidal Pituitary Surgery
Trigeminal Neuralgia
Biography
As a neurosurgeon at Carolina Neurosurgery & Spine Associates, Jonathan Parish, MD, specializes in neuroendovascular surgery. His special interests include treating brain aneurysms and tumors, arteriovenous malformations, and strokes, as well as performing transsphenoidal pituitary surgery and minimally-invasive spine surgery.
In July 2022, Dr. Parish was the first graduate of the Neurological Surgery Residency Training at Carolinas Medical Center to join Carolina NeuroSurgery & Spine Associates as an attending physician.
This Charlotte-based residency program is a subspecialty-based program designed to train skilled and compassionate neurological surgeons who aspire to assume national leadership roles in clinical innovation, medical education, and neuroscience research.
Residents are trained by the core faculty of neurological surgeons from Carolina NeuroSurgery & Spine Associates, representing a comprehensive breadth of subspecialty practice and clinical research. Dr. Parish comments,
"I am honored to become the first graduate to join Carolina NeuroSurgery & Spine Associates, the largest private neurosurgical practice in the country. Now, as an attending physician of the practice, I am fortunate to continue to invest in this beloved community of patients who need and deserve the best and latest neurosurgical intervention and treatment."
"I am proud that my mentors and now peers are delivering cutting-edge treatment with care, compassion and genuine concern. I am honored to join them and develop myself as a neurosurgeon to meet the specialized needs of our patients. I am able to put my patients first, and am expected to do so on a daily basis. This team of physicians have been invaluable mentors to me and I am truly thankful for this opportunity."
Not originally from the Carolinas, Dr. Parish grew up in Indianapolis, Indiana, and after completing medical school at Indiana University, he ranked Carolina Neurosurgery & Spine Associates as his first choice for residency placement because the center was a nationally recognized private neurosurgical practice with a strong focus on academia.
During his time as a resident, he experienced, first hand, that physicians within the group, including his close mentors Dr. Joe Bernard and Dr. Hunter Dyer, were compassionate people who loved their work, providing advanced, high-quality care to patients. Dr. Parish is able to continue building relationships with his patients and the other providers at Carolina Neurosurgery & Spine Associates by joining the practice.
Dr. Parish, his wife, and their son and daughter have created many memories over the past 7 years living in the Charlotte area. They have and continue to enjoy calling Charlotte home. One of the things that attracted Dr. Parish to the group was the importance the practice puts on family, even while leading the busy life of a neurosurgeon.
Prioritizing family time and an active lifestyle, Dr. Parish and his family find time to enjoy snow skiing, family bike rides, taking trips to the beach, and cheering on his Hoosier based teams–IU Basketball and the Indianapolis Colts.
Education
Fellowship
Neuroendovascular Surgery Fellowship - Carolinas Medical Center 2020-2021
Residency
Neurological Surgery Residency Training Program at Carolinas Medical Center, Charlotte, NC
Medical School
Indiana University, Bloomington, IN
Undergraduate Education
BS Biology; Minors in Business Management, Spanish and Chemistry, Indiana University, Bloomington, IN
Affiliations & Memberships
Congress of Neurological Surgeons
American Associations of Neurological Surgeons
Southern Neurosurgery Society
Society of NeuroInterventional Surgeons
Chief Resident, Neurological Surgery Residency Program (2021-2022)