Advanced Brain and Spine Care Near Lake Norman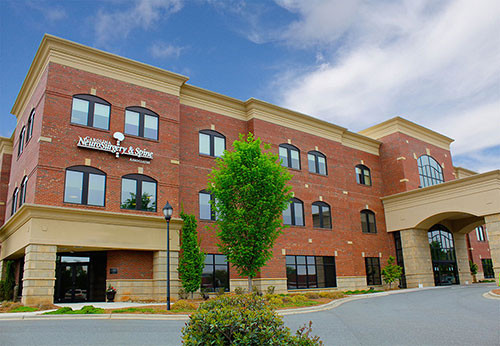 At Carolina Neurosurgery & Spine Associates, our nationally-recognized doctors focus on diagnosing and treating patients with injuries and disorders of the brain, spine, and peripheral nerves. We have helped patients from around the world, and our Huntersville and Mooresville offices make it easier than ever to find specialized neurosurgery, physiatry and physical therapy care close to home.
Our Huntersville office includes on-site imaging and physical therapy, keeping all our services conveniently under one roof. Patients can often have X-rays the same day as a scheduled doctor's appointment. Diagnostic procedures and therapeutic injections are performed in our on-site fluoroscopy suite.
Services Include:
Brain and spine care from specialists in the fields of neurosurgery and physical medicine and rehabilitation
On-site imaging (x-ray and MRI) (Huntersville)
In-office physical therapy (Huntersville)
Huntersville Office
9735 Kincey Avenue
Suite 300 Huntersville, NC 28078
Phone: (704) 831-4100

Physicians at this location

Peter Bailey, MD
Byron Branch, MD
Vinay Deshmukh, MD, FACS
Christopher Holland, MD, PhD
Daniel Leas, MD
John Lesher, MD, MPH
Mooresville Office
143 Joe Knox Avenue
Suite 200 Mooresville, NC 28117
Phone: 704-831-4100

Physicians at this location

Samuel Chewning Jr., MD, MBA



Daniel Leas, MD
John Lesher, MD, MPH
We are able to help the majority of patients without surgery through physical therapy, therapeutic injections, and other nonsurgical treatments. When surgery is necessary, we offer a world-class team of highly skilled neurosurgeons who have developed and performed innovative, life-changing procedures for 80 years.
To learn more, complete the form below or call 704-831-4100.

Examinations By Fellowship-Trained Neurosurgeons And Physiatrists
On-Site Therapeutic Injections
On-Site Physical Therapy
On-Site Imaging
EMG/Nerve Conduction Studies
Minimally Invasive Spine Surgery
Complex Spine Surgery