Celebrating our Advanced Practice Providers!

09.28.2023
What is the role of an Advanced Practice Provider (APP)?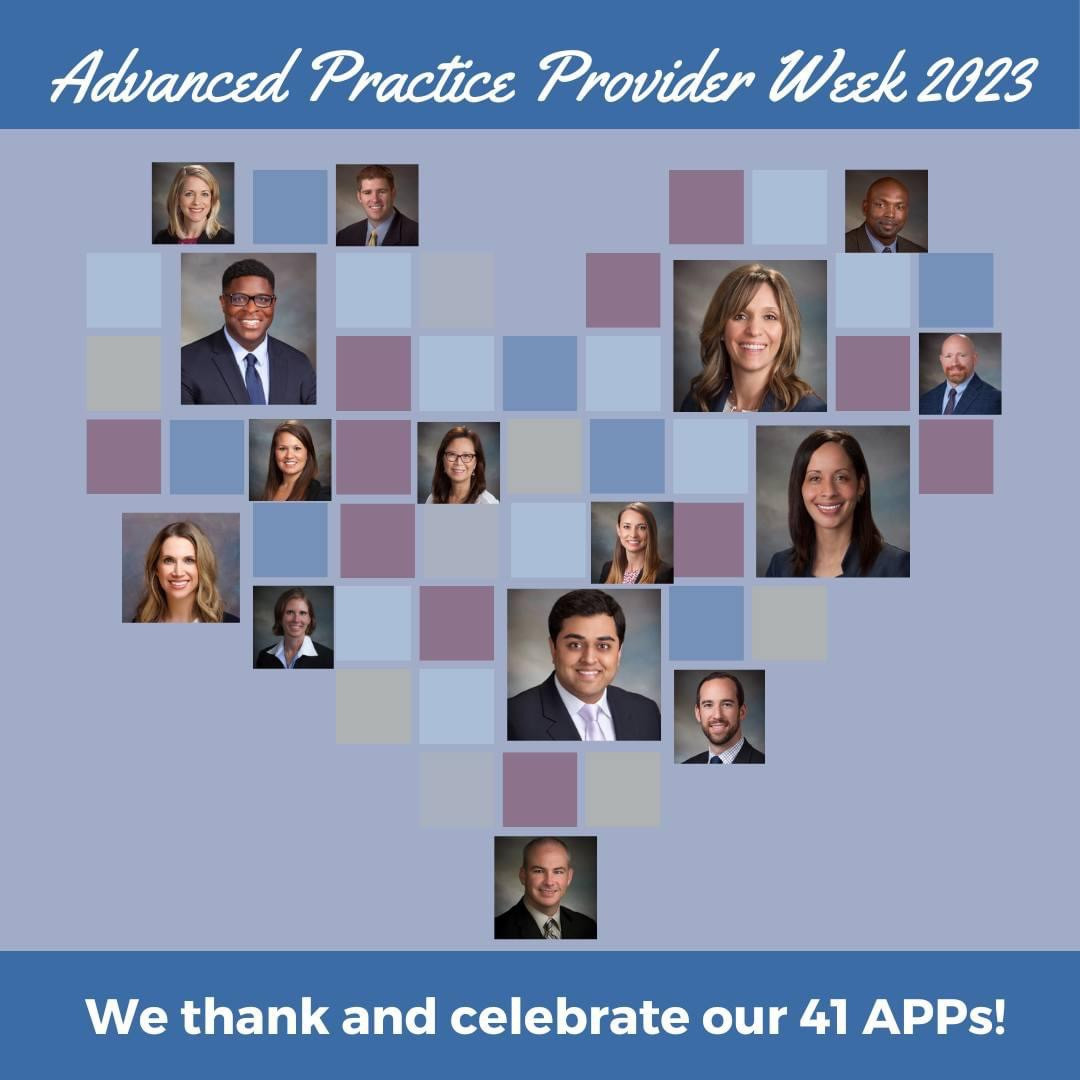 Across our nine office locations to include our Charlotte and Greensboro markets, we have 41 APPs with various specialties, including adult and pediatric neurosurgical care, physiatry or non-surgical spine care, and neurology care. Our APPs work closely with our physicians to provide comprehensive patient care. They positively impact our patient care by enhancing the following junctures throughout the patient journey.
Patient evaluation and assessment: When you're a patient at CNSA, you may be evaluated by one of our APPs on your first visit! APPs conduct medical history reviews, physical examinations, and neurological examinations to aid in diagnosis and treatment planning.
Preoperative and postoperative care: APPs assist in evaluating patients before surgery, including reviewing medical records, performing physical exams, and ordering necessary tests. They also provide postoperative care, including monitoring patients' progress, managing pain, and addressing complications or concerns.
Treatment planning and recommendation: The APPs at CNSA collaborate with neurosurgeons to develop treatment plans, which may include surgical interventions, medications, and other non-invasive interventions.
Pain assessment and management: APPs help manage pain and discomfort associated with neurological conditions or surgical interventions through medication management and other pain management techniques.
Providing cutting-edge clinical research and education: The APPs at CNSA stay at the top of their field by staying updated on the latest advancements in neurosurgery and educating patients about new treatment options or research opportunities.
We asked our APPs to answer some questions about why they became healthcare providers, their patient care philosophies, and why they love working at CNSA.
Daris Sullivan, a Family Nurse Practitioner (FNP), chose to pursue nursing because it resonated with his caring and compassionate nature. Today, his philosophy of care centers around putting patients first and treating every patient with the same level of respect, compassion, and attention that he would give to his own family members.
For Lauren Colombo, PA-C, her shadowing and rotation experience led her to neurosurgery and CNSA. She was mentored by CNSA neurosurgeon David Jones, MD, which led her to specialize in neurosurgery.
"I shadowed (Dr. Jones) as a student and was fortunate enough to complete my elective PA school rotation with him," Colombo said. "I always thought he had the coolest job, and it turns out I was right!"
Paul Damm, PA-C, is a Physician Assistant at CNSA. He decided to become a PA for two reasons: first because, he worked as a surgical technologist in the Operating Room for many years and became interested in becoming more directly involved in patient care. The second reason? His one elective rotation in PA school was in neurosurgery at CNSA, and he enjoyed learning from the physicians and APPs during this rotation.
For PA Ashley Howell, working at CNSA means being a part of a team of high-quality providers and specialists. She's proud of the wide variety of complaints and diagnoses the CNSA team treats and is passionate about educating her patients on their diagnoses and providing recommendations for therapeutic options and treatment modalities they may continue at home.
Insights from Our APP Leaders
Paul Damm, PA-C is also the Director of Clinical Services at CNSA, which means he can lead a group of APPs. According to Damm, the APPs at CNSA are often patients' first contact with a provider.
"We initiate conservative measures, expedite obtaining imaging studies, and prescribe non-surgical treatments such as PT and injections," Damm said. "We greatly expand access to care for our patient population."
Lauren Waldron, PA-C, the Manager of outpatient APPs at CNSA, added that in the past, APPs were referred to as "mid-levels." As a team, she said that the APPs try to assist in managing patients with nurses, medical assistants, support staff, and physicians.
"The APPs at CNSA are highly trained medical providers who practice medicine under the authority of our attending physician's license," Damm added. "We are also credentialed and licensed by our own respective national regulatory agencies. We not only expand access to care in our offices but have a 24/7/365 presence at Atrium Health Charlotte, a level 1 trauma center."
Visit our online provider directory to read about our APP team and learn why they got into the brain and spine care field!
­­­­­­­­_____________________________________________________________________________________
About our Comprehensive Services
Carolina NeuroSurgery & Spine Associates, established in 1940, is one of the nation's largest and most highly respected neurosurgical private practices. Our group provides brain and spine care services, including adult and pediatric neurosurgery, spine surgery, physiatry, neurology, pain management, and physical therapy.
We offer advanced surgical and non-surgical treatment for the entire spectrum of brain, spine, and peripheral nerve disorders, including brain tumors, spine deformities and injuries, stroke, epilepsy, congenital anomalies, concussions, neck and lower back pain, and pituitary tumors.
Carolina NeuroSurgery & Spine Associates' commitment to advancing the science and delivery of brain and spine care has remained the driving force for its success.
The group comprises 49 physicians, 41 advanced practice providers, and over 550 employees. With nine office locations, the group primarily brings the latest, technologically advanced neurosurgical therapies to adults and children across the Carolinas.
Our experts are here to help. Call our office or click below to request an appointment online to take the next step.
__________________________________________________________________________
This content is for informational and educational purposes only. For specific medical questions, please consult your doctor. New and current patients can call our offices to make an appointment or request an appointment online.
---